KOUSCH – Good Design T-Shirts and Lifestyle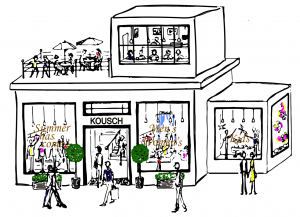 KOUSCH was founded in April 2016.
All designs are the original of KOUSCH and by a Japanese female designer,
inspired by the tradition and culture of Japan and travel around the world.
*Concept of KOUSCH
*Features of Our Products
Background of the Foundation of KOUSCH
How we can be pleasant and relaxed is becoming more important than ever
to be more creative and productive at work and on holidays.
T-shirts are the standard attire in the tribes of Silicon Valley now.
It might be because entrepreneurs and smart business people does not spend much time on clothes — they prioritize "work",
but it might be also because T-shirts and hoodies are very easy to wear and people can be active and productive.
On weekends and holidays,
we do various things… sit around the house,
enjoy gardening, cooking or play with children,
play some sports or enjoy museums,
have a pleasant dinner or cheerful drinks with friends.
For such life,
a cloth in which we can move around easily, that we can wash and still, which is cool and stylish
becomes essential.
In such era that T-shirts are so needed,
when we look around,
most of what we found were similar and not very unique.
We started KOUSCH to provide unique T-shirts and designs
inspired by various cultures and histories.
We wish our products make people's workdays and holidays more creative and fun.
Thank you for your continuous support and patronage to KOUSCH.