What "Business Casual" means?
Recently, business casual is dominating offices.
Even the most staid companies are encouraging business casual today,
such as GE, IBM, JPMorgan Chase, etc.
>>JPMorgan Chase Embraces Business Casual - NY Times - By Michael J. de la Merced
Most people prefer relaxed clothes to work, but at the same time,
it is a bit challenging to figure out the right clothes for "Business Casual".
It means different things depending on industries, departments, position, and occasions.
For example, at Goldman Sachs,
"The dress code at GS varies from business to business and office to office.
One senior GS banker in London says there's a lot of business casual in IBD:   
"The senior VPs and below only put suits on when they go to meetings."
In San Francisco, it's standard to wear jeans to meetings.
In London, it's all about dark suits and shirts.  
"Ties are usually only worn to meetings
(seniors might wear ties all the time but that differs from person to person).
Internal roles are more relaxed and you will see most people wear jeans and t-shirts," says one insider."
(efinancial careers.com)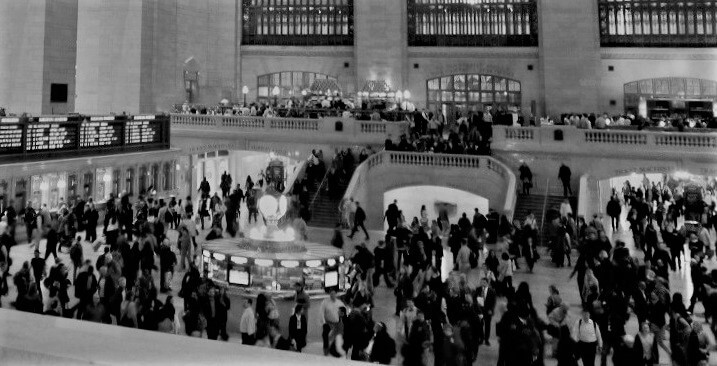 Mark Samuels says that
"I felt like the overdressed work experience boy who is desperate to create a good impression, and failing badly."
when he went to an interview wearing clothes with a collar with a CIO who was dressed in jeans and a t-shirt.
(ZDNet)
It is also different depending on countries and cities;

>"Business casual" around the world - BBC - By Chris McGinnis
>> How to dress like a startup founder in Silicon Valley, London and Berlin - WIRED - By Edwin Smith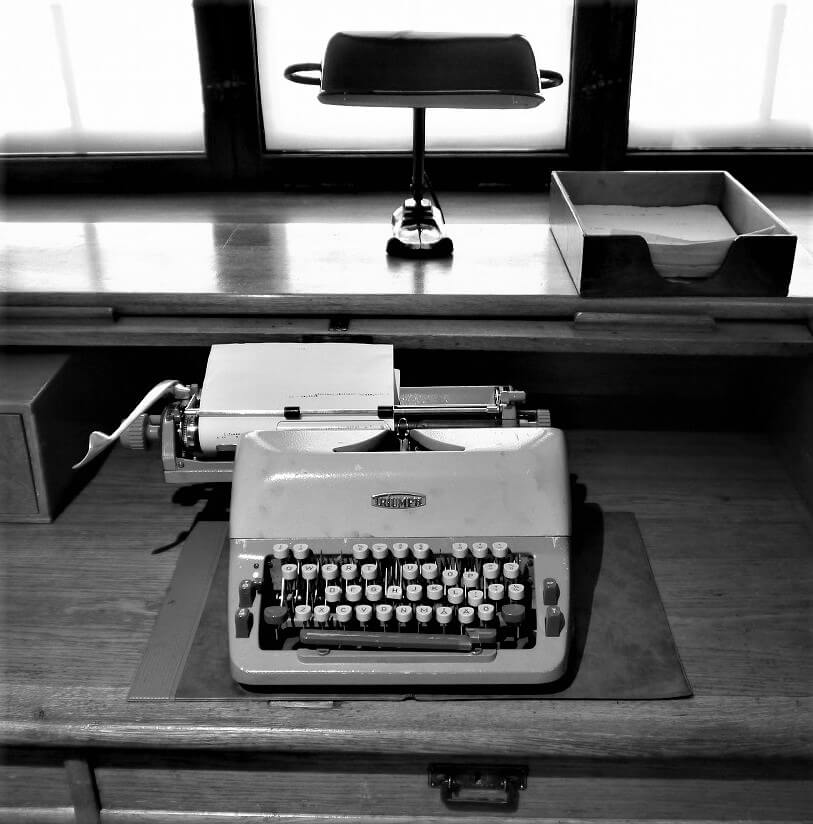 There is no correct one answer, but Jamie Millar explains in a good way;
""Smartness is more a matter of the appearance of your clothes rather than their style,"
writes Sir Hardy Amies in A-Z of Style.
"Shoes polished, trousers pressed, and tie properly tied are necessary factors in a smart appearance.
"The operative words here aren't 'shoes', 'trousers' or 'tie' (we're talking about smart casual, after all),
but 'polished', 'pressed' and 'properly'.
A pristine T-shirt, indigo jeans and box-fresh trainers can look dressier
than a wrinkled shirt, stained trousers and scuffed shoes.
A T-shirt, jeans and trainers won't always be appropriate, mind.
But smart casual is arguably more a mood or attitude than it is a set formula or combination of pieces. "
Dress for Success
We know the signature attire of famous CEOs in Silicon Valley such as
Steve Jobs (Apple), Mark Zuckerberg (Facebook), etc.
and they say they wear those
"to clear my life to make it so that I have to make as few decisions as possible about anything
except how to best serve this community".
But it doesn't mean we don't need to care about our looking.
We should't forget the word "Dress for Success".
People tend to feel guilty about taking the time to focus on clothes,
but our clothes tell a lot about our personality, status, lifestyle, philosophy, etc.
A "first impression" is a big part of the mental process.
People evaluate others whom they have just met based on their clothes.
For example, a study found that uniqueness increased
audience members' ratings of the status and competence of a professor
who wore red sneakers while giving a lecture.
Male Peacocks display their vibrant fan to attract female.
The fashion skill of human being demonstrates our individuality and
make us distinguish ourselves from others.
Many researches tell that dressing smart is also important
for our confidence and self-empowerment.
Our mood can be affected depending on what we wear.
Professor Karen Pine says
""Happy " clothes tend to be those that are flattering,
well tailored and made from bright and beautiful fabrics".
Power clothing makes us more confident and even increases hormones
needed for displaying dominance.

Smart Casual T-shirt Look
Then, what should we wear?
There are many posts and articles about "Business Casual" or "Smart Casual",
but there are very few introducing T-shirt business casual look
even in today's trend that many people actually wear T-shirt at work.
A clean cut T-shirt can replace a shirt with collar if worn correctly.
Here is the guide.
1. Select sophisticated design and keep silhouette well-fitted
To make a T-shirt style smart,
it is essential to select simple and mature design.
High quality cotton such as combed cotton is smooth and shiny
and it can lend a sophistication.
Silhouette also determines formality.
Make sure that you opt for a well-fitted T-shirt.
Avoid sloppy or too tight ones.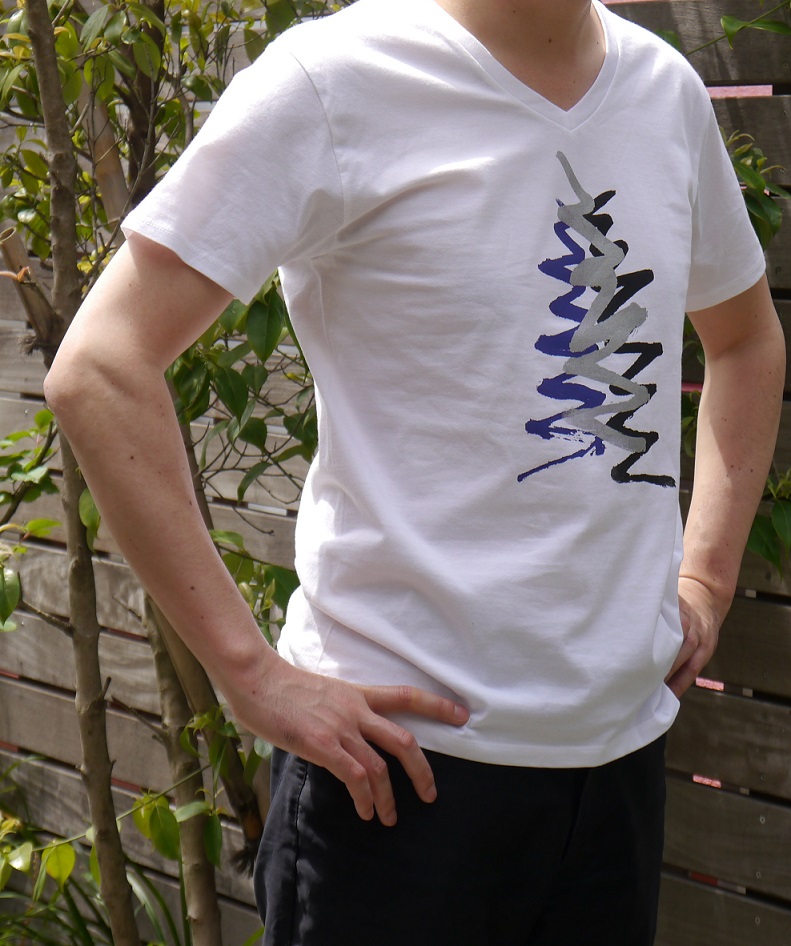 KOUSCH - "Forest" V neck White Short Sleeved T-shirt
2. Pair with a jacket / blazer or cardigan
If you are wearing a T-shirt for smart casual style,
T-shirt is the only item to play.
For other items, choose rather a bit formal one.
So instead of choosing bomber jacket,
select high quality blazer or a shawl collored cardigan.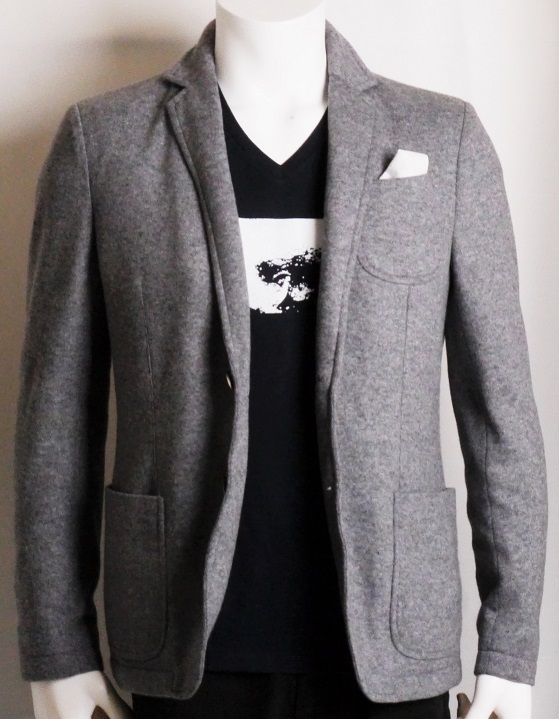 KOUSCH
3. Dress it up with quality trousers and finish with right shoes
To add formality, match your T-shirt with tailored chinos, smart suit pants, etc.
and with shiny leather shoes or tassled loofers.
Pointy shoes are smarter and round one is more casual.
Black is the smartest and brown is more casual.
4. Darker colors for more than one item to smart up
For example, if you choose white T-shirt,
choose black, navy or olive green for your jacket or cardigan
to make the coordination dressier.
On the other hand,
if you pick up a pale color jacket,
pair with darker color T-shirt such as gray, navy or black T-shirt.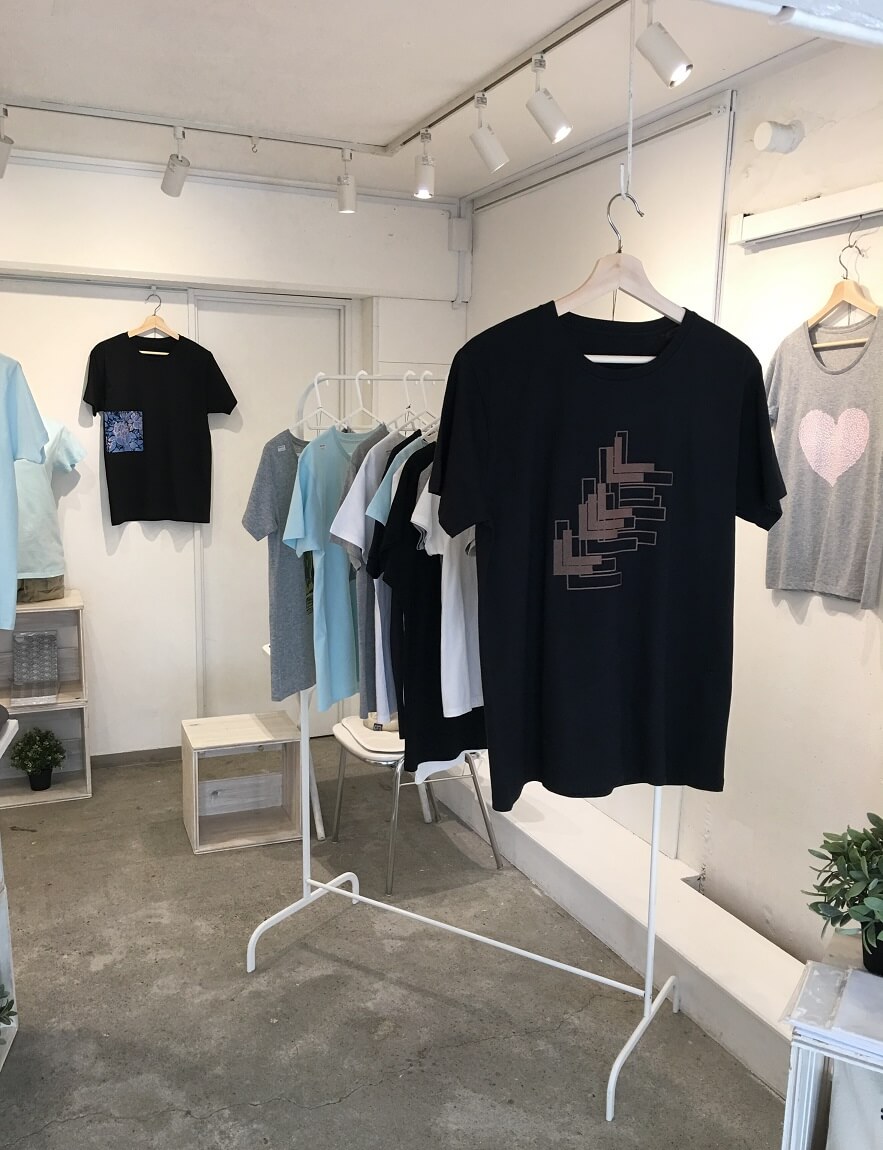 KOUSCH
5. Check the T-shirt clean and wrinkle-free.
When you wear casual clothes,
it is more necessary to take care the detail.
Business casual is not synonymous with making no effort nor work casual.
Keep up on personal grooming also.
Here is some additional hints for your T-shirt outlook - the list of T-shirt styling around the world;
a
T-shirt Label for Smart Casual
Can you think of a brand which satisfies the needs for "Smart Casual T-shirt" to invest for your success?
KOUSCH is the professional T-shirt label providing T-shirts of various design
which are just right for working attire - simple, sophisticated and high quality.
We deliver all over the world.
Find the right one for you among our design!