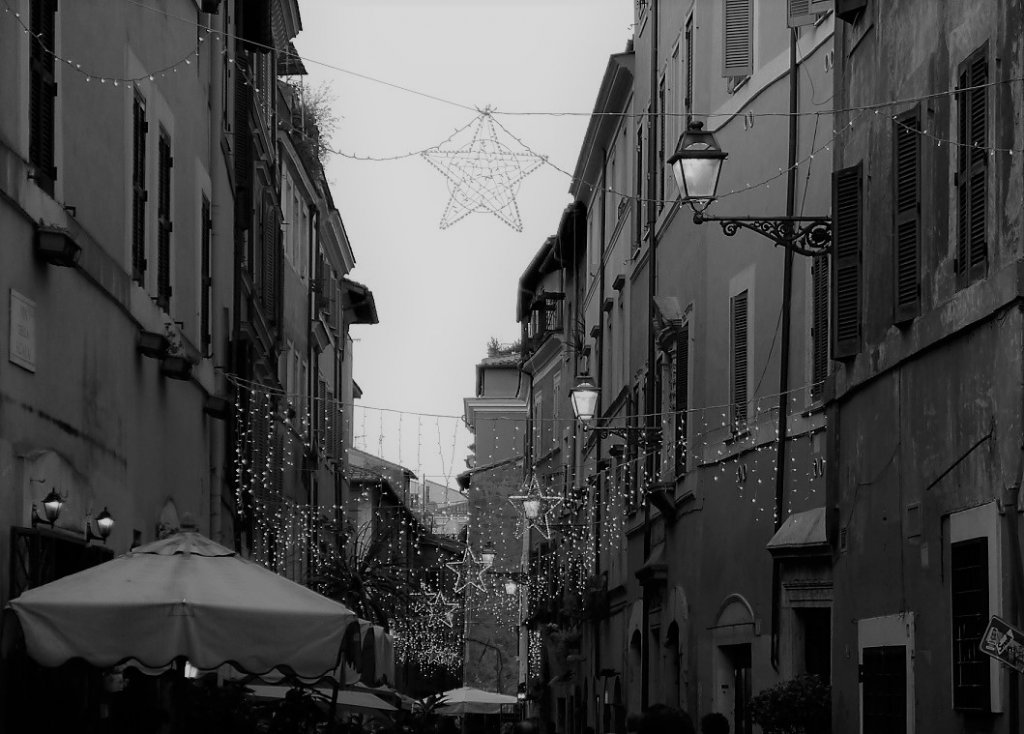 What to give as the Christmas gift this year?
Every year, you would wonder what to give as the holiday gift for your family and someone special.
Beautiful scarf, cozy mittens, stationery, cool digital gadget, neat leather gadget…
If you run out of idea, how about giving a T-shirt for the holiday gift?
It is great if there is a plan of visiting southern islands / resorts in the holiday vacation
where the T-shirt can be enjoyed.
It is of course good if the person you give the gift loves to wear a T-shirt all the year.
And for whom always receives winter gifts (such case as the birthday is in winter).
KOUSCH, the T-shirt label provides sophisticated T-shirts which are best suited for gifts.
It is fun to select the one which fits the person by yourself.
Also it is a good idea just to ask what kind of graphic design the person like to himself/herself.
You can also give a T-shirt gift voucher.
We send our products gift-wrappted 。
We also accept the request to issue gift vouchers. Please access the inquiry form and tell us so.
---
Introduction of T-shirts suited for Holiday Gift
For your Boyfriend, Husband, Dad, Son
Wishing him Merry Christmas and a happy new year,
present him a fine T-shirt of unique and cool design,
which would make him beyond attractive.
If you like to give gifts something with Christmas colors,
how about selecting a red T-shirt?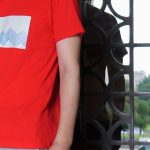 "Wave" Crew Neck Red Short-sleeved
It is a nice idea to select a very unique design T-shirt
which he had not been tried yet but you are sure it fits him perfectly.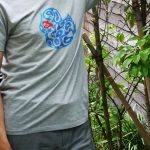 "Marilyn Duck Blue" V Neck Gray Short-sleeved
If you are going to holiday vacation somewhere of mild weather during Christmas or in the near future,
it is fun to arrange same T-shirt with him and yourself.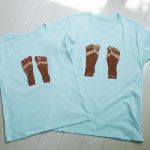 "Mens Sandal Suntan" Crew Neck Sherbet-blue Short-sleeved
For your Girlfriend, Wife, Mom, Daughter
You need to be very careful when you present a gift to your girlfriend.
If you have already spent a long time and understands each other,
anything you think of would be great for her.
But if you have just started going with her,
you should select the gift very carefully as you don't know her taste yet.
Just purchase very romantic things in that case.
If you have been with her for a long time already and know her taste,
a T-shirt would be a nice present.
If you are plan to have a trip with her, select the one she can wear in the trip.
It is also good ask her what kind of design she likes.
If she works in semi-casual attire in the office,
select the T-shirt which is good to wear under a jacket.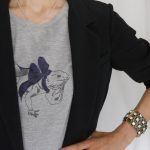 "Aristiguana Marie" Round Neck Gray Short-sleeved
If she prefers the black and white style with a little charm point,
how about selecting the pink flower motif design T-shirt?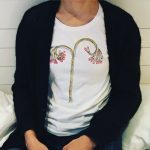 "Flower-Comfrey" Round Neck White Short-sleeved
From a daughter to Mom, From a son to Mom.
Wishing her to enjoy her days actively, energetically, and beautiful for ever.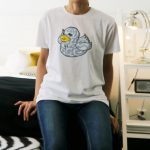 "Marilyn Duck Gray + Pale Blue" Crew Neck/V Neck White Short-sleeved
Follow us on SNS !
Facebook: facebook.com/kousch
Instagram: instagram.com/kousch.tee
——————————
September 2020

| Monday | Tuesday | Wednesday | Thursday | Friday | Saturday | Sunday |
| --- | --- | --- | --- | --- | --- | --- |
| | | | | | | |
| | | | | | | |
| | | | | | | |
| | | | | | | |
| | | | | | | |
Red:Today Blue:Event
(If you click the blue date, detail will be shawn)
Topics
❏ Events
❏ Column