Follow us on SNS !
Facebook: facebook.com/kousch
Instagram: instagram.com/kousch.tee
What is your impression about Japanese culture?
Here, we introduce our products influenced by Japanese culture from pottery of ancient times to modern technology.
Please enjoy our collection of T-shirts and totes with unique design screen printed one color by one color.
Do you know that Japanese used to play soccer from around 600s?
The name of the sports is "Kemari" which means kicking the ball.
This sport was imported from China then and became very popular among aristocracy especially in Heian era (794-1185),
It spread out among people of other class until Nobunaga Oda promoted Sumo wrestling.
Now you can only see in special occasion such as festivals in temples in Kyoto.
The ball is made of the deerskin and inside is empty.
The rule is very different from western soccer / football.
The players need to continue passing the ball among the circle of 6-8 players.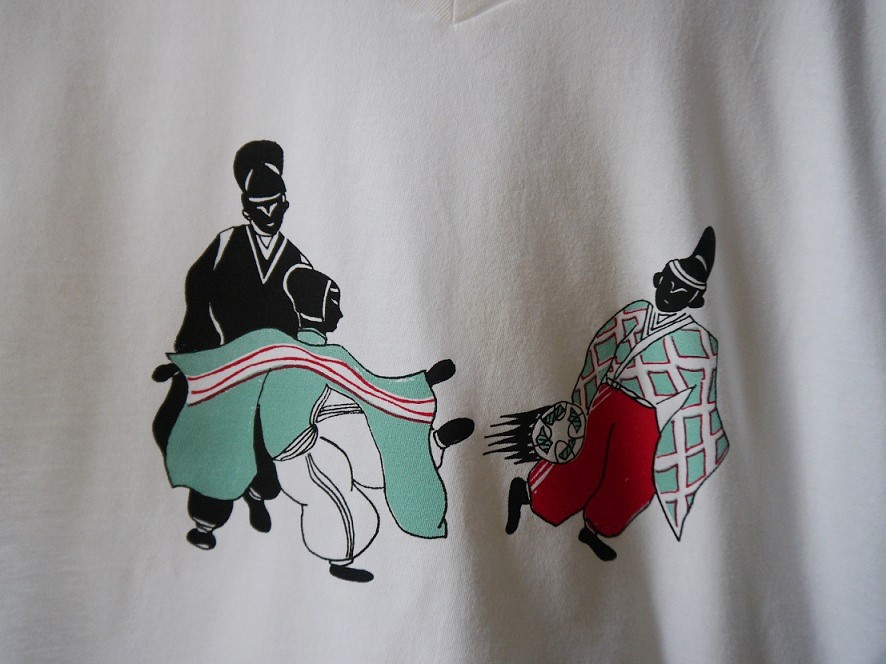 In the graphic print of our T-shirts, soccer players are wearing Kimono which is the case of Kemari, Japanese soccer.
But what is different from the traditional Kemari is,
in this design, they are actually playing western soccer in Kimono.
The ball is modern soccer ball and the player kicks the ball just like the world cup players.
Enjoy this unique design T-shirt!
To buy, look here! >> "Soccer in Kimono"
"Choju-Giga" – Japanese old "Emaki"(Picture Scrolls)
If you go to Kyoto, you have lots of opportunity to see this "Choju-Giga" motif – animals are playing around like human beings.
The original picture book (scrolls) belongs to Kozan-ji temple in Kyoto and has been named as a national treasure.
It is called as Japanese oldest  caricatures, origin of our modern culture "anime".
Rabbits, frogs and monkeys are jumping, playing Sumo, etc. and they are very liked by Japanese people even now.
You can see Choju-Giga tea cups and Choju-Giga letter pads in the souvenir shops in Kyoto.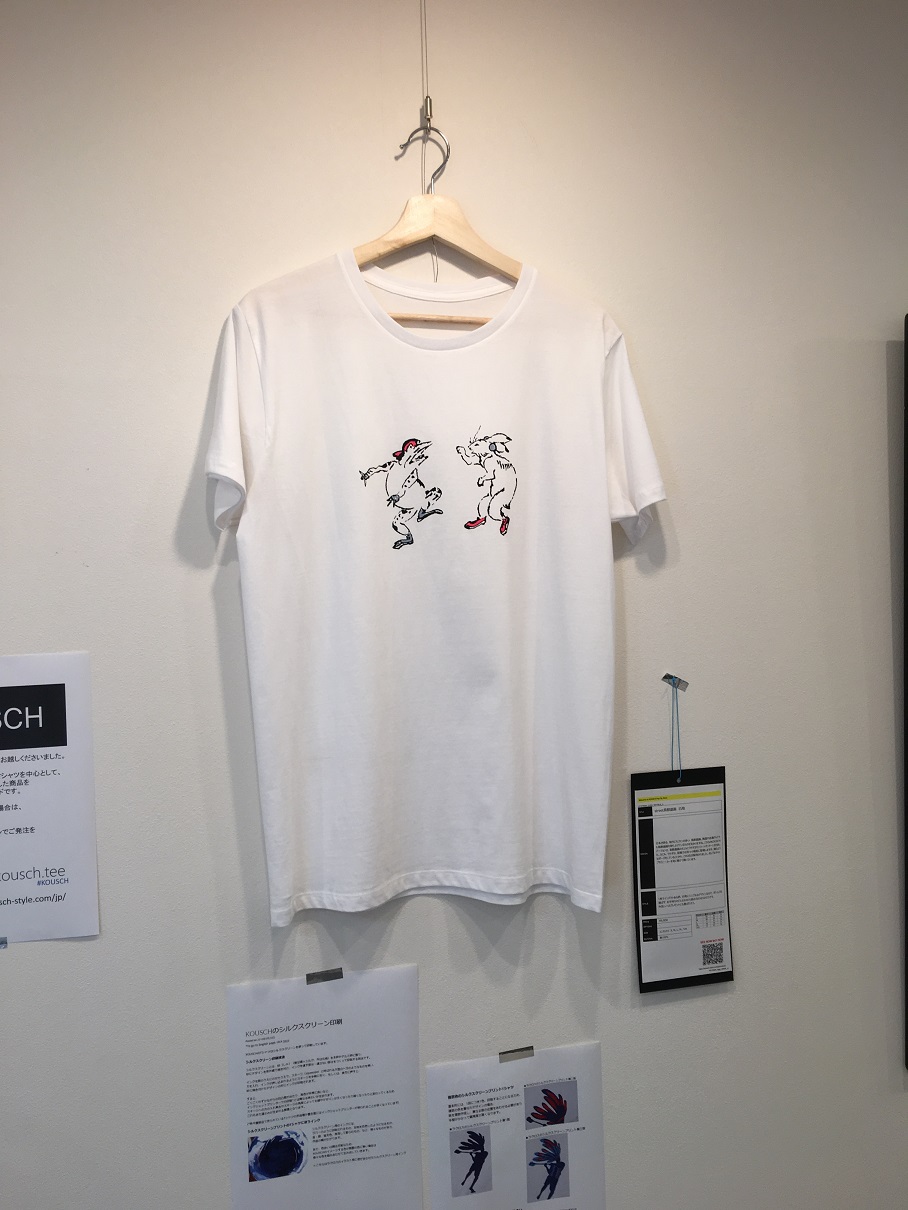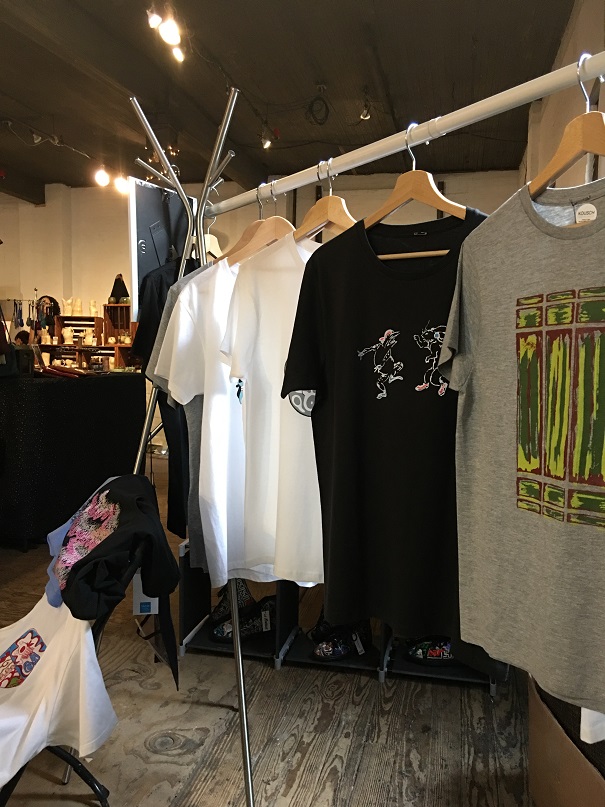 KOUSCH arranged this design in a modern way – the animals are street dancers and they are wearing caps, headphones and sneakers.
We keep the touch of brush and at the same time, some parts are colored with vivid pink etc.
To buy, look here!
>>  Street "Choju-Giga" – White
>> Street "Choju-Giga" – Smoke Black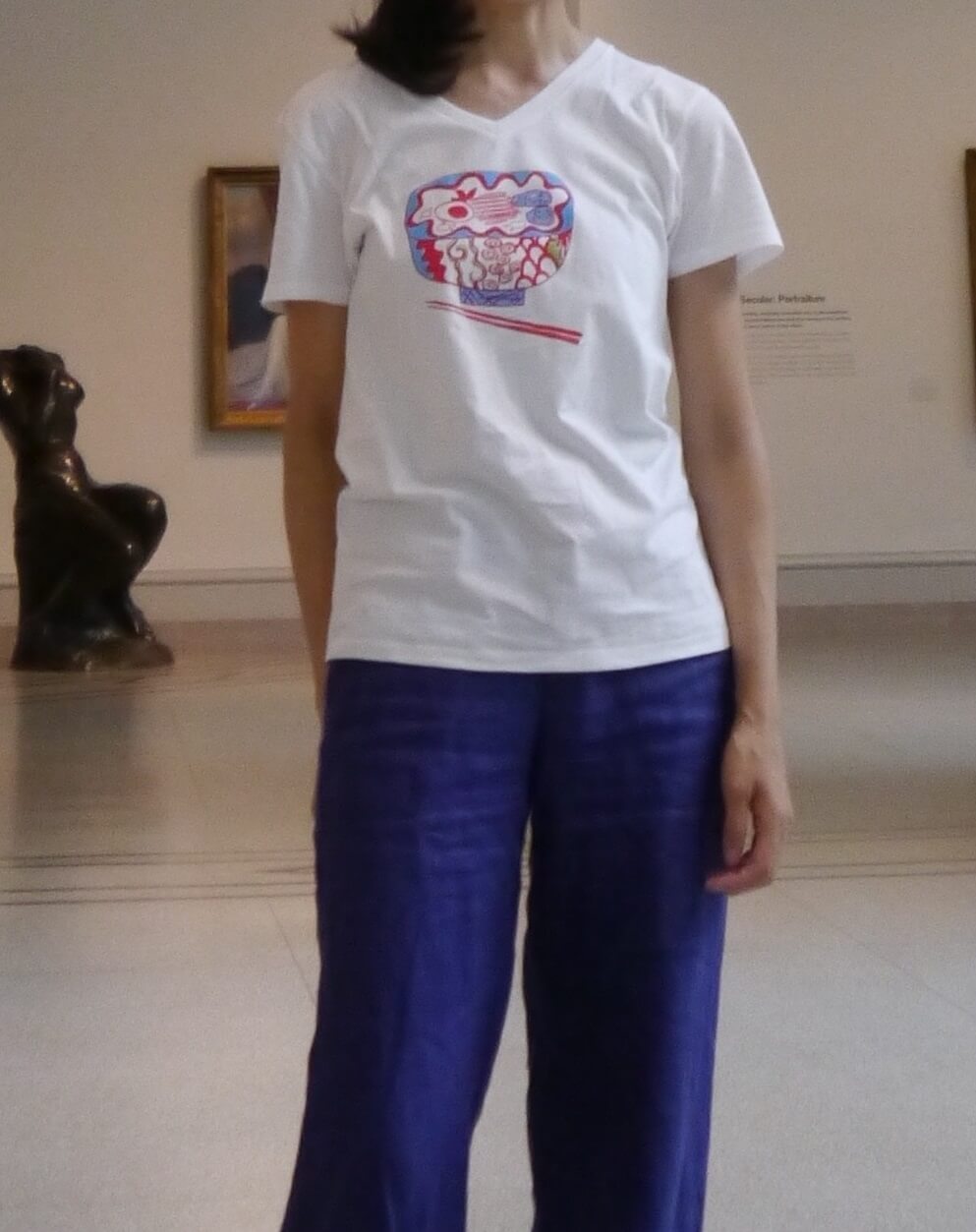 Ramen is becoming very famous in the world.
Everyone loves Ramen in Japan.
But the position of Ramen is very different from Sushi or other formal style dishes.
Japanese call this kind of dishes "B-level groumet" which means "not A (super)" directly,
but the nuance is popular among mass and the price is reasonable.
In old days, Japanese picked various things for the design of Kimono pattern
from plants to cow carriage.
So, KOUSCH wanted to try something not very sophisticated – "B-level" and
still to make the design very sophisticated.
Thus, we picked up Ramen for our design and printed with such color.
The title follows the name of the Japanese movie "Shall We Dance?".
To buy, look here!
>>  Shall We Ramen?
Kids' T-shirt of Shinkansen Motif
Shinkansen – the bullet train is the high-speed railway lines in Japan.
They are very popular among boys and even among adults in Japan.
Shinkansen was established in the era of high growth in Japan in 1960s.
The operation started between Tokyo and Osaka and the maximum speed was 210 km/h.
Now, the network was expanded all over Japan and the maximum speed is  300 km.
The design of the trains differ by each line.
This motif is based on the design of Hokuriku-Shinkansen which run between Tokyo and Kanazawa right now.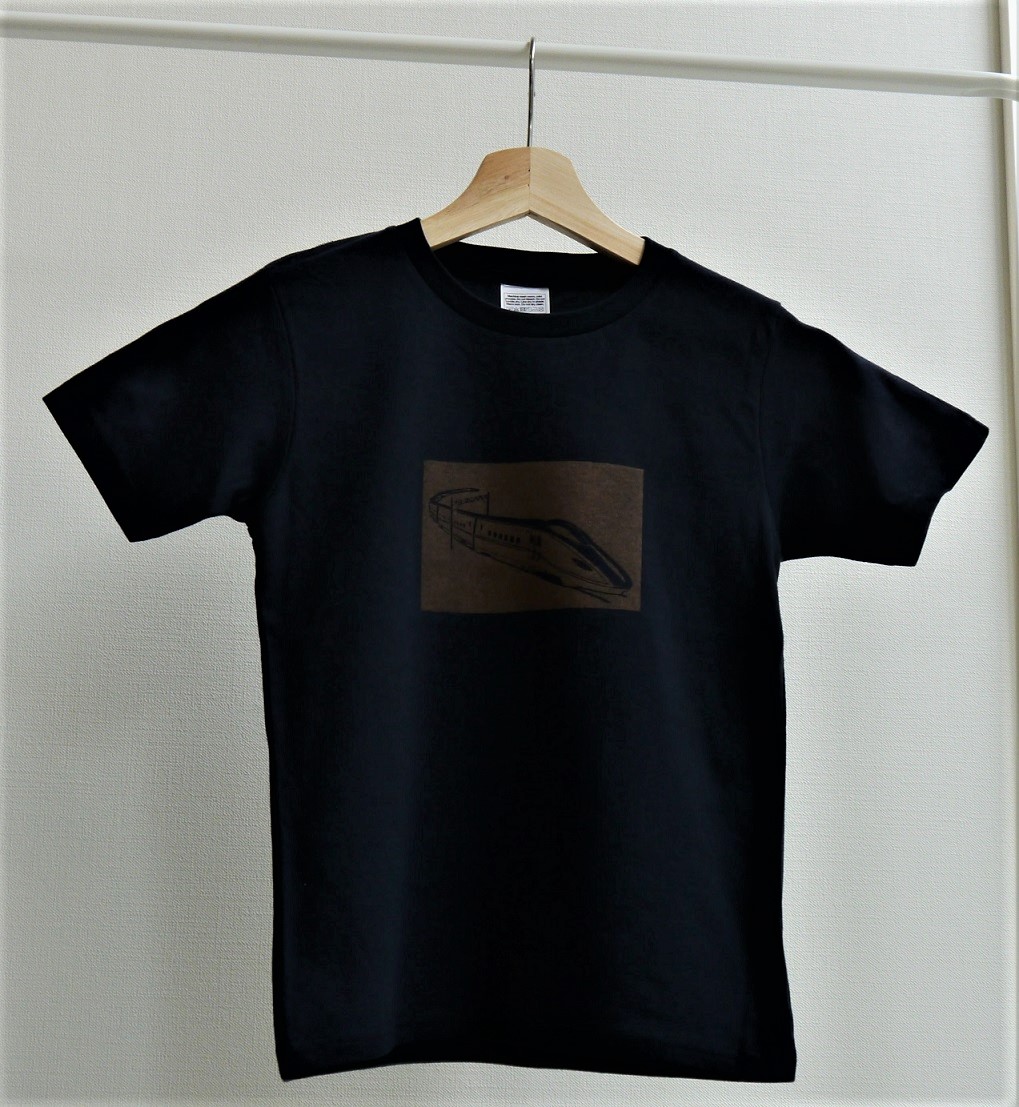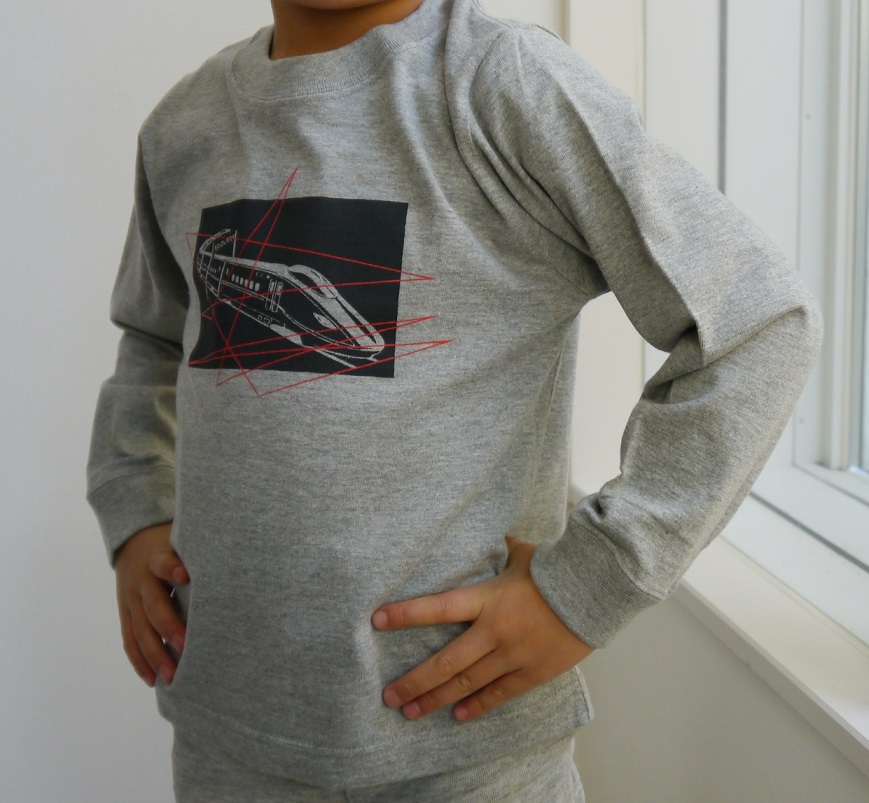 To buy, look here!
>> Half-sleeved T-shirt
>> Long-sleeved sweat shirt
The plan is to extend the line between Tokyo and Osaka via Hokuriku area.
"Hokuriku" is the name of area consists of 4 prefectures – Niigata, Toyama, Ishikawa and Fukui.
Kanazawa is a famous old town.
The area was owned by Maeda family in Edo era and the area was  very prosperous.
That is why Kanazawa is called as the second of Kyoto and there, you can see old town houses,
lots of crafts and enjoy food.
Before Hokuriku-Shinkansen established in  2015, it was very inconvenient to get to Kanazawa from Tokyo.
Now, it takes only 2.5 hours by Shinkansen and it made Kanazawa very popular city to visit again.
As Shinkansen motif is so popular among boys,
there are tons of Shinkansen motif T-shirts.
But most case, they are anime-like.
For moms, it is not happy as they are sometimes too childish or too  gaudy or scrambling.
KOUSCH uses Shinkansen motif in a different way – chic and stylish.
Thus, both moms and boys are very happy!
We keep on introducing very unique designs!
Please looking forward to it.
Follow us on SNS !
Facebook: facebook.com/kousch
Instagram: instagram.com/kousch.tee