Description
Gorgeous design T-shirt with the drawing of a birdcage decorated with rose, various flowers and leaves,
which fits very well with brokante-style rooms and atmosphere.
It is a great pleasure to announce that
we have collaborated with Atelier Momolith for this work.
The set of a T-shirt and a long necklace is 10% off of the total price of two.
Atelier Momolith
The artist who makes pretty accessories using cotton pearl and beads.
Creation includes various pieces depending on the colors of the cotton pearl or beads,
colors of the strings, and how knots are arranged between beads.
The necklace is made with white cotton pearl, royal-blue beads, knotted with royal-blue and aqua-blue silk strings.
Size of the pearls are 8mm and 6mm.
You can see blue knots besides 6mm cotton pearls.
The length is 105 cm.
No metal used which is good for whom with metallic allergy.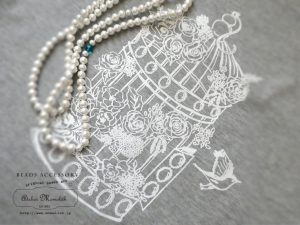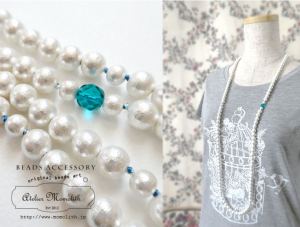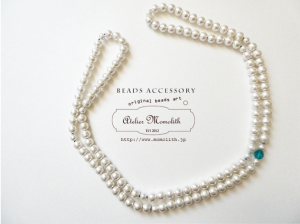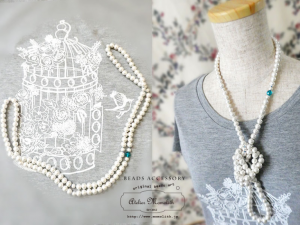 Good to coordinate with black or white cardigan,
which would look sophisticated.
The style with white pants or blue denim would be nice
and the combination with vivid color long skirt would be also excellent.
Cotton pearl necklace would be the perfect accent of the style.
It is light, easy to move around and enjoyable!
T-shirt only:6,482 yen
Necklace only 5,000 yen  (Please purchase at Atelier Momolith)
A set of T-shirt and Necklace:10,333 yen (10%OFF of total amount of the two above )
*Please consider that these are hand-made and it takes approximately 2 weeks to ship.
Your Beautiful Days with Power T-shirts !
Make your work and life creative and pleasant.
For the precious time with your family, partner,  and friends.
Please see here to know the features of our products.
Womens Round-Neck
Style
Fitted style with wide round neck which makes the look feminine.
Neck is tough, but is thin and sophisticated.
Material
Cotton90%, Rayon10%, 4.1oz  Combed Cotton, Jersey Stitch
Comebed Cotton is high-quality cotton which was combed during spinning into thread.
The shirt keeps the shape as the cloth is finely knitted.
At the same time, it is comfortable stretchy.
Also, it does not fluff easily. Silky and comfortable touch.
Size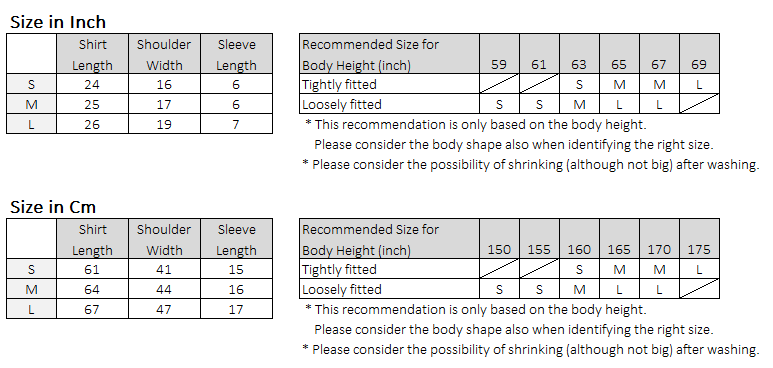 Care Instructions
Washable with washing machine.
Do not dry clean. Do not tumble dry.
Do not iron as possible and when necessary , please press with a damp cloth.